Rent a motorhome for your next holiday, from CanaDream RV Rentals and Sales
Imagine the freedom of cruising through breathtaking vistas of Canada's Rocky Mountains stopping where and when you want. CanaDream's fleet of custom-built motorhomes is guaranteed to provide you with comfort and convenience. Motorhomes are easy to drive, requiring no special license. Best of all, with a CanaDream vacation you get online trip planning tools and 24/7 roadside assistance.
New this year, CanaDream guests can rent an Apple iPad, complete with the CanaDream Club iPad app! Book campsites, attractions and activities directly from your motorhome, wherever 3G access is available.
With a fleet of more than 750 vehicles available for rent, CanaDream makes it easy for you to take a motorhome vacation. Whether for one person, a couple, families with kids or groups of friends, CanaDream can provide vehicles for up to six people. Choose a truck camper, van conversion or a Class C motorhome from CanaDream, and set out to experience Canada at your own pace.
Your dream vacation in the Canadian Rocky Mountains will start with a visit to any of the eight CanaDream locations in Canada. In the west you'll find them in Calgary, Edmonton, Kelowna, Vancouver and Whitehorse, with Eastern Canadian locations in Montreal, Toronto and Halifax.
* * * *
CanaDream's pre-planned Rocky Mountain itineraries include:
Southern British Columbia to the Rockies and Back:
Enjoy 16 days exploring the beauty of Western Canada's Pacific Coast, picking up your vehicle in Vancouver. Included are stops in Victoria, Tofino, Whistler and Sun Peaks. Then on to Jasper and Banff, where the alpine landscapes are simply unforgettable. Back towards Vancouver via Okanagan Valley in BC's interior – all in the convenience of a rental motorhome or camper from CanaDream.
Ski the Powder:
British Columbia is renowned for world class ski destinations, with long runs and plentiful snow, especially powder. Consider a winter holiday and a route stopping at several different resorts where you can sample varying terrains; all of which are among the world's best. An added bonus: hot tubs, mineral springs and massage therapists are commonly found at many resorts, if you need a helping hand with relaxing après ski!
The Grand Adventure:
This is a great vacation idea which lets you see history and geography up close. Explore Alberta's Cowboy Trail and the majestic Canadian Rockies, all from the comfort of a motorhome from CanaDream RV Rentals.
* * * *
Western Canada holds a special place in the hearts of all who visit, offering countless opportunities for sightseeing and outdoor activities. Let CanaDream help you experience an incredible variety of landscapes with utterly breathtaking scenery. Rugged peaks, stunningly blue mountain lakes and bountiful wildlife are common. National Parks abound, and with such world class cities to visit as Vancouver, Calgary (or even Seattle and Portland), there's something to appeal to every taste.
With the help of CanaDream RV Rentals, your holiday is limited only by your imagination!
---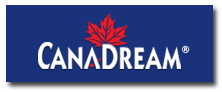 CanaDream RV Rentals and Sales
serving Western Canada
from Calgary, Edmonton, Kelowna, and Vancouver.
For more information visit our full website at: http://www.canadream.com
Email: res@canadream.com
Call: 1-800-461-7368 (Toll Free - Canada & U.S.A)
---